I will be participating in the 2011 Dystopia Challenge! When I used to read a ton, I loved this genre, so I'm really looking forward to getting back into it. I'm starting at the Asocial level (1-5 books,) though, because of all the other challenges I'm doing to get back into reading.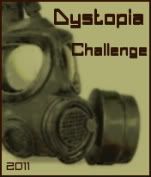 The books I've read for this challenge:
Matched by Ally Condie - Finished 1/3/11. Meh. 2 out of 5. I wasn't impressed.
______ by ______. 1/19-27. 4 out of 5.
1984 by George Orwell. 2/9/11. 5 stars!
Hunger Games by Suzanne Collins. 6/5/11. 4 stars.
The Giver by Lois Lowry. 6/23/11. 3 stars.
******** Reached original goal of 5 dystopia books!
Books to read:
1984 by George Orwell (this has been on my shelf for ages!)
Fahrenheit 451 by Ray Bradbury
The Handmaid's Tale by Margaret Atwood
I am Legend by Richard Matheson
Care to join?
Check out the challenge at BA Reading Challenges!