Okay, it's nearing the end of January, and with 6 books read (including chapter readalouds) I think I am well on my way to accomplishing all my 2011 reading challenges (assuming I stay on the same pace.) So, I've decided to take on one more challenge: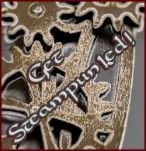 I'm going to start at the lowest level: Geared (5 books.) This is a brand new genre for me, and I'm hoping I like it. Can't wait to get started!
Steampunk books read:
Boneshaker by Cherie Priest. 2/2/11. 4 out of 5 stars.